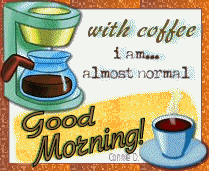 I hope everyone had a good night's sleep. I slept ok. I only woke up one time during the night. And this morning I slept til 7:35. I just put a half pot of coffee on to brew. I need caffeine to wake me up so I can tackle this housework today. It's my kitchen. I think every dish, plate, bowl, cup, glass, pot and each piece of silverware is dirty. The sink is filled, stove is covered in dirty dishes, table is totally trashed with anything and everything and the floor is the most disgusting thing I have ever seen. It's disgusting in that kitchen and I don't even like going in there. I can only do so much, then I have to rest, otherwise I ache so bad in lower back and legs that I just fall down. I have a very hard time keeping up with housework. It's not because I am lazy, because I am not lazy. Ever since the cancer and surgery, I have more problems now that give me limited use of certain parts of my body. Like my right arm. I am right handed, so now since I have very little use of the right arm I do everything with my left and it takes me alot longer. Say if it takes you 5 minutes to wash one dishpan of dishes, well it takes me at least 15 to 20 minutes. By the time I am done I am holding onto the sink for dear life and have to sit down. So today I'll probably be in that kitchen anywhere from 4 to 5 hours cleaning it. I have to get it done, it's horrible.
Emma and Dan will be dropping off Marissa and Daniel to me around 3 today. Emma has to go have another ultra sound. She has to go to Albert Einstein hospital, and it is a far drive and Emma doesn't know her way. So on these days she goes there, Dan works til 1pm then comes home to take her. He loves seeing the baby on the monitor. Maybe I'll get a good pic this time to share with you all.
Mmmmm, boy is this coffee good. I really need it too, lol. Well, I guess I will get some email read while I enjoy my coffee, then go and tackle my kitchen. Take care and enjoy your day.
Love to all....................