Well, did everyone have a nice Valentine's Day? Mine was just fine. Jim came home from work last night with gifts. Rebecca, Marissa and I all got boxes of chocolates, a card and the girls also got a My Little Pony each. Their eyes lit up seeing the gifts. I am waiting for my other gift to arrive. They said it takes 6 to 10 days to arrive. I am enclosing the link to the site where I got the Soprano's Cookbook from. Their's alot of Soprano's things on the site you can buy, but I only want that cookbook, lol. Here is the link.
I also enclosed a few pics of the girls with their gift's last night. They loved the candy and toy. After dinner they were allowed a piece of chocolate. Then they painted for a while, before getting ready for bed. I was so glad to see their bedtime arrive, I was exhausted. But anyways here is a picture of them at the table painting.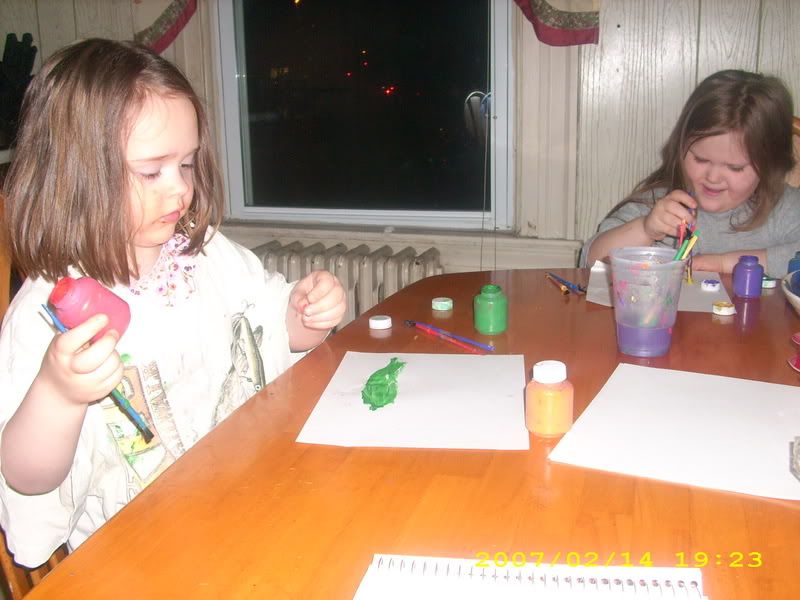 This time I played it smart and put one of Jim's old T-Shirts on them to use as a smock. They thought that was cool. Especially Rebecca, because her shirt had a fish on it, lol. This kept them busy for about an hour. It's just amazing how close these girls are. They like all the same things, do the same things, get on my nerves the same way, lol just kidding. You would never know they were aunt and niece looking at them. But they are. Rebecca is the aunt and Marissa is her niece. When they were babies everyone thought they were twins. We would go out and people were like, awwwwww such cute twins. Well you should of seen their faces when we told them the real deal. I tried to take a closeup of them in a pic I have where they are laying side by side. It's a little blurry but you can still see them. This is Rebecca at 4 weeks old and Marissa at 1week old.
Rebecca is on the left, Marissa on the right. I need to get a scanner. We are working on that. Jim's been going on line trying to find one cheap. No luck as yet. Well, what is on my agenda today? Cleaning, cleaning and more cleaning. These girls can sure make a mess. Gotta give them a bath also. They didn't get one last night. I was just too tired to give them one. Believe me it is real hard for me to give 2 girls a bath. I am in so much pain getting down on the floor leaning over that tub. Especially with this dang right shoulder.
This morning I woke up to a major headache. I hate that. Glad I got my Tylenol Arthritis 650mg's. It's the only thing that works for my headaches. Two of those babies and in 15 to 20 minutes, bye bye migrain.
Well, I guess I will go now. Kids are hungry, and so am I. Gonna feed them, get them bathed and dressed, and clean up a bit. Then I have some research to do for my son in law for a report he has to write for Glacier school. He's been working in Atlantic City, New Jersey for a while now on a new casino being built. For anyone who doesn't know what a glacier is, it is a person who builds, assembles and installs windows, store fronts, in offices, casino's and high rise buildings. He loves his job and is doing very well at it. He is also union so gets alot of benefits. I'm real proud of him. He is not only a great supporter of his family, but he is also a real family man. And a few weeks ago, he celebrated 5 years of being clean and sober. Now that is an awesome accomplishment. So, guess I will go now. Take care everyone, keep warm, drive safely and have a wonderful day.
One more thing, Roxy made me a tag I asked for with my sister's and myself name on it. I asked her to tag it for me cause it reminded me of my childhood with my sister's. It even looks like us, cause there's abrunette (me) a redhead (Lucy) and a blonde (Helen). I thought I'd add it to this entry.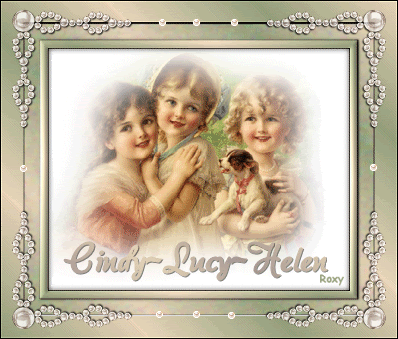 The girls in the graphic even resemble us some. Amazing, and I love this graphic alot, as I do my sister's too.
Take care all, keep warm, drive safely, and most of all have a wonderful day.
LOVE TO ALL..........................