Here's my baby girl Rebecca when she was christianed. We lived in Virginia at the time in a small town called GreenBush. Uncle Joe drove to virginia to attend the christianing because he was her godfather.
Here's daddy holding Rebecca and Uncle joe proud as can be. Rebecca was hungry, didn't want to wait til after the christianing for that bottle, lol.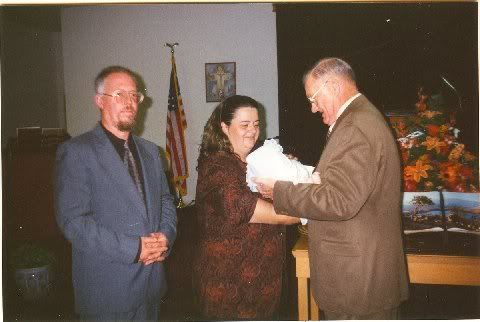 Here's the preacher placing Rebecca in my arms after Uncle Joe handed Rebecca to him. I never realized how good Jim looked in a suit before, wow. Bet his Mom and Grandmom would love a pic of him in this suit, lol.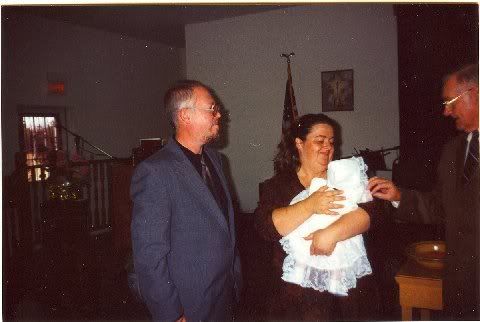 She was not a happy camper after that water was put on her head, lol. Awwww she also was tired. Way past her nap time.
Well, there ya go, another round of my pics. I'll put in another batch later. Rebecca and I went out for a few hours today. We went to kmart and food basics. I had to get the things to cook dinner at my sister Helen's tomorrow. I am making spaghetti and meatballs and sausage and my homemade sauce. A big salad and garlic bread. We usually just order take out or cook on grill, but it's too cold to stand outside and cook. So, I will cook indoors. I am taking my camera too, will get lots of pics to share with you.
I know I already put this photo in, but when I did it was blurry cause I used my camera to take a picture of that picture, think I got that right, lol. I scanned it and you can see the 2 girls alot clearer now. So here's Rebecca and Marissa again.
Aren't they cute? They were such good babies. And now, let's just say, I NEED CALGON!!!!!!!!!!!!!! LOL And here is Rebecca in her very first halloween costume. She is a ladybug. Or babybug lol and she wasn't happy to be wearing that costume. I think because of the hat, she hated hats on her head when she was that age.
Or maybe it was just gas, lol. Nooooo, I think it was the hat. And this next pic is of Jims grandmother. The one we named Rebecca after but switching the name.
Evelyn Rebecca holding Rebecca Evelyn.
More tonight, see you then.
LOVE TO ALL.........................