I have peace and quiet now. Rebecca is fast asleep and Jim just went off to bed. I put away the meatballs and sausage I cooked tonight to take to my sister Helen's tomorrow for when I make spaghetti. I have some more pictures to share with you. This first one is my husband Jim when he was in the army. I wonder why they aren't allowed to smile in their military pics.
Check out those glasses he has on. Gosh I hated those things. I was so glad when he got wire frames, lol. This next pic is of Rebecca having cake and icecream for her first birthday. Even at 1yr old this kid loved spongebob, as you can see was the theme of her party, lol.
Yep I think she was enjoying it too, lol. In an earlier entry i posted a pic of me when I caught that trout. Well, these next 2 pics will prove who the best fisherman is, cause those sardines they caught got nothing on my fish, lol.
Here is Jim showing off that sardine, lol. Mine's bigger, sure is. And here's Joe showing off his sardine. Yep mines bigger than his fish too, lol.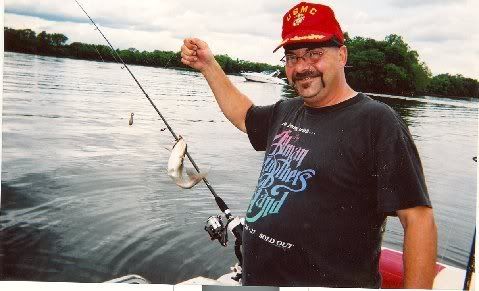 This next pic is of my brother Paul, can't really see him so well, but he's the one I talk about, when I mention my SIL to be Nancy. Red hair and blue eyes he has.
And I have permission from Nancy to put a pic of her in my journal. She is the sweetest person. We've known each other for more then 11yrs now. I can't wait for her to become Paul's wife.
Nancy also has a journal called "desires". You can go to it by clicking on desires on my side bar. In her journal she talks about her hopes and dreams of her life with Paul and of her family.
This next pic is my dad. He came to Rebecca's 1st birthday party, and yes he wore a party hat too, lol. And of course he gave her a very noisey toy, lol I gave it to Daniel recently, he loved it. But as for his mommy and daddy, I don't think they like it, oh well it ain't there's, it's my grandson's, lol.
Rest in peace Dad 5/25/37 to 9/4/05
I have 4 more pics to add, but I'd better save them cause they may not fit here in this entry. I'll add them in another entry. Right now I am going to upload the pics of the things I got at our thrift store the other day. Hope you all enjoy the pics. And also want to wish you all a very nice weekend.