FIVE DAYS, FIVE DAYS OF HAVING 2 KIDS 24/7. I TELL YOU IF IT HAD TO LAST ANY LONGER I WILL TOTALLY LOSE MY MIND. THE PAST 2 DAYS THESE 2 GIRLS HAVE WORKED EVERY NERVE IN MY ENTIRE BODY. THEY WERE IN BED LAST NIGHT AT EXACTLY 8PM, INSTEAD OF WAITING TIL 8PM TO GET THEM READY FOR BED. THIS GRANDDAUGHTER OF MINE IS GOING HOME TODAY. YEP, SHE IS. I LOVE HER DEARLY, BUT MOMMOM IS DRAINED, EXHAUSTED, FRUSTRATED, FED-UP, TIRED, AND PROBABLY LOSING HER MIND TOO, LOL.
AND THEY ARE TRYING TO THROW ME ATTITUDE, HA LET HIM TRY HARDER, CAUSE I GOT ALOT MORE THEN THEY DO. AND CAN GIVE IT BACK JUST AS QUICK TOO, LOL. THIS MORNING BRAND NEW BOX OF TISSUES SITTING ON END TABLE, MY BACK IS TURNED. I LOOK AROUND AT THEM AND YEP TORN TISSUES EVERY WHERE. IT LOOKED AS THOUGH IT SNOWED IN MY LIVINGROOM. THEN I NOTICE A VERY COLORFUL MARISSA. SHE HAD TAKEN A RED AND A BLUE MARKER AND SCRIBBLED ALL OVER HER LEGS, ARMS AND HANDS. THE CHILD IS IN THE TUB RIGHT NOW SCRUBBING IT OFF. WHEN DAN GETS HOME FROM WORK TODAY, HE IS COMING TO PICK THIS CHILD UP AND TAKE HER HOME. I HAVE HAD ENOUGH. IF SHE DON'T GO HOME TONIGHT, I AM ADMITTING MYSELF INTO THE LOONEY BIN FOR SURE.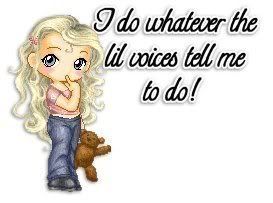 I WILL GO NOW. I AM PACKING HER THINGS UP, AND GETTING HER READY FOR WHEN DADDY DAN GETS HERE. IS IT 4PM YET, GRRRRRRRRRRRRRRRR.
HOPE YOUR HAVING A BETTER DAY THAN I AM.
CINDY