Yesterday was a nice day. I cooked my spaghetti dinner. Everyone enjoyed it. Rebecca and Daniel had a great time playing with Little Bug. That dog is such a good dog. Helen was so tired when she came home from work, she changed out of her waittress uniform and sat down with a cup of coffee, actually she had 3 cups lol. Having the 2 lil ones there made her feel so much better. She is so worried about the test results. I told her the hardest part is waiting. I added pics from her home yesterday. I used aol, alot easier for so many pics. But one pic I kept out cause I wanted to see it in entry. Last christmas, Helens son Ronnie Jr asked his mom what she'd like for christmas. She told him, well I would like a picture of my 4 son's all together. So christmas morning as Helen and Ron unwrapped their gifts they were handed a big wrapped box, in the box was 2 framed pics, 10x13 and an 5x7 both frames were beautiful. The pic in each frame were her son's all together. They got together and went to JC Penny's and had their group pic taken. Helen and Ron loved that gift. Here is a pic of her son's. And man they got so big and so handsome too.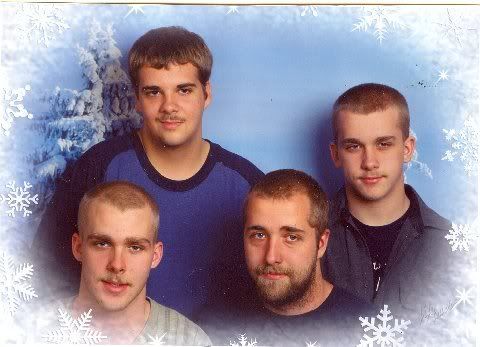 Ronnie Jr top left is 20 Andrew top right is 14 Chris bottom left is 17 and Brian bottom right is 19. And all the boys are taller then Helen and Ron, but still listen to their Mom and Dad. They know better, lol.
Well remember when I said I felt drained of energy for 2 days but thought it was from no sugar? Wrong!!!!!!!!!!! Half way through the day yesterday I started feeling crappy, runny nose, sinus's burning, sore throat, yep I am sick, grrrrrrrrr, and the worse part is Rebecca has it too. We had to go to CVS last night on the way home for med's for Rebecca and I. Hope it don't last long, I hate being sick. Gonna go, my sister Lucy is waiting very impatiently for me to make this entry so she can see these pics, lol. Hope you all have a nice sunday.
We're expecting a nasty winter storm today into tomorrow morning. Grrrrrrrr, where's spring?
LOVE to all..............................