Well, it seems old man winter is showing his ugly side today. It is snowing!!!! It is a fine mist of snow, but snow. Weather man says we'll get hit with the worst of it tonight. Lovely. Not!!!!!!!!! I took a couple pics out my livingroom window. Hope you can see the flakes, if not you can still tell it's snowing due to it's on the ground.
Here's another pic. This is of the corner (intersection) where I live. Not many cars out this morning.
I guess you can see the snow. Those little white marks are snow flakes being blown by the wind we are also getting. Brrrrrr it is cold outside and looks it too. My agenda for today, stay indoors and keep warm. Jim took the van to work, just in case the weather is too bad for him to walk home tonight. I didn't need it, I went yesterday and did my grocery shopping just in case we're snowed in. I dropped Rebecca off at Emma's and took Daniel shopping with me. He of course had his own list for me. Banana's, cookies and juice, lol. He was such a good boy. After shopping we went to McDonalds. I got him a hamburger and french fries. He fell asleep eatting half way through his meal. So, we went back to Emma's. I got out the things Daniel had wanted and we went inside. He was still so tired. But wouldn't lay down, no way. Not when mommom was still there, lol. Ok, I admit it. I have this child spoiled. He knows how to melt my heart and does it on a regular basis. He get's my cellphone to play with, my keys, and shares my diet pepsi with me.
While at my daughter's yesterday, I got to hear my grand daughter Marissa play the piano. She plays with one hand, but it sounded great. She played for me the song, Mary had a little lamb. It was so cute. Next time I go over there, I am gonna video tape her doing so, and try again to upload a video in You Tube. If not I will just post the pic.
Well, when Rebecca and I were leaving Emma's yesterday to come home, I had my grand daughter practically begging to come over. Of course I could not say no. So, Emma packed her a bag, told her to send enough clothes for a few days just in case snow is bad, and grabbed her blankets and pillow and to mommom's house she went, lol. They played so nicely last night. Then it was dinner time. They played some more then into the tub they went. I washed and conditioned the girls hair, and they sat in the tub and played with all the tubby toys as they call them. They got into their pajamas afterwards, I combed their hair and it was time to brush the teeth and go to bed. Here's a few pics of the girls I took last night all squeaky clean and smelling like tangerines, cause I used the tangerine conditioner after I washed their hair with baby shampoo.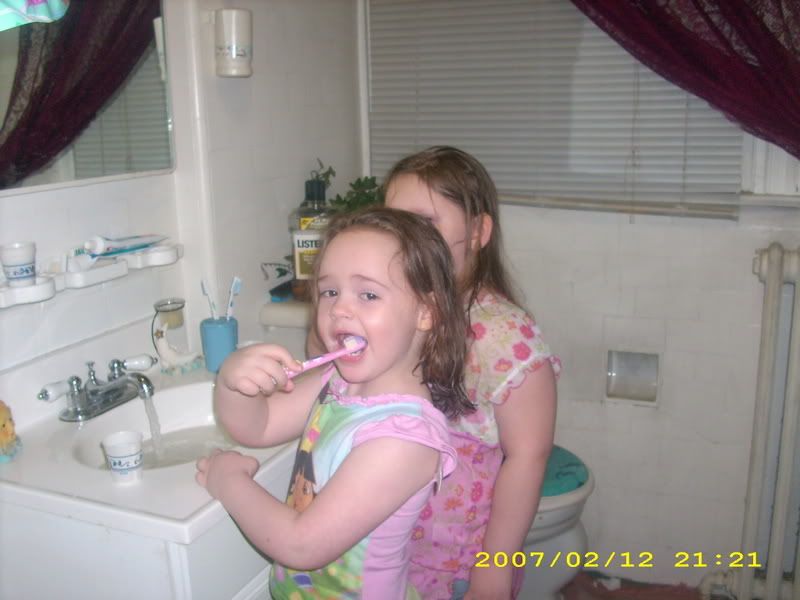 They talked for a few minutes after in bed, but fell asleep. Jim woke me up around 3:30am, saying Marissa sounded funny. I got up and checked her, and she was awake and upset. She was having a problem breathing. Her nose was all stuffy, and she felt very warm. I gave her a dose of Tylenol Cold for children and rubbed some Vicks, vapo rub under her nose. She was able to breathe again and fell to sleep. She woke up this morning a little hotter then last night, so I gave her another dose of Tylenol. After about 30 minutes the fever was gone, thank goodness. Now Marissa is running around playing with Rebecca. They have the dollhouse all set up with furniture and a whole bunch of Polly Pocket houses surrounding it. Got their own little village going on, lol. Marissa will probably be here for 2 or 3 days. I don't mind, she keeps Rebecca busy.
Well, tomorrow is Valentines Day. Nothing special planned. I'll just cook a Spaghetti dinner like I always do. I have to get Jim a card yet. I may bundle the girls up and walk them down to the deli, so I can buy Jim a card. I should of picked him up a gift yesterday while I was out, but I didn't. Oh well, it's the thought that counts right. I guess I will go now. I want to get the girls dressed and myself too. We're all still in our pajama's, lol. Thursday Emma goes to the doctor's, ob/gyn. I will be making that pregnancy journal and post the link here in this journal for you all. Keep warm, drive safely and have a wonderful day.
Love to you all..........................