Good evening. Just thought I'd stop by a while before i go to bed. I've been up since 3:30 this morning. That's what happens when I go to bed early. Bit last night I felt so horrible I had to go to bed. I'm feeling a little better right now. Sinus's are burning anymore. I still have this awful cough, which I think has caused me to pull muscles in chest and ribs. Throat hurts a little when I swollow, but been gargling with warm salty water, so that's helping. Rebecca says her throat her scratchy. I been giving her lozenges, and I put a glass of water on her stand next to her bed. I filled her sippie cup with ice and added a little water so it'll be cold for her. I just hate it when one of my kids is sick. Or one of my grandkids. As sick as Rebecca is my lil girl helped me clean the livingroom and the bedroom today. I was so proud of her. I rewarded her with a cup of hot chocolate. She loved that treat.
I'm glad your enjoying the pictures of my family I been posting. As you can tell, I do love my family very much. My family means more to me then anything else in this world. I try to be there for them when they need me, and I would do just about anything for them if I could. They are my life, and what keeps me going each and everyday. Without them I would be lost. Anyways Here's a few more pics for you to see. I have some more to scan but I am just too tired to do so tonight.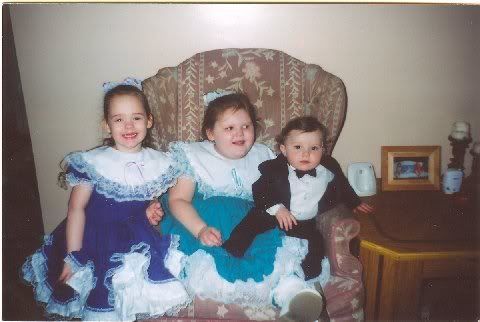 Here is Rebecca, Marissa and Daniel all done up looking so cute for Dan's Mom's 75th birthday last July. Daniel was not at all happy about being in that tuxedo. He's happy just running around in his diaper, lol.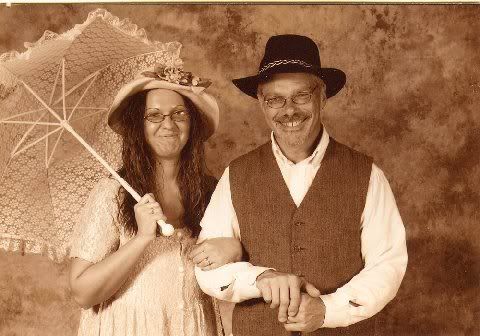 My daughter Emma and her husband Dan. I think they look adorable. Emma was trying to keep herself from laughing because Dan hated that hat, and she wanted him to wear it. I guess you can tell who won, lol.
Man, I love these 2 babies. My precious grandchildren. They can really melt my heart. The next 2 pics are my grandbabies taken separately. Emma had a hard time getting Daniel off of the antique style bike. That child loved it.
Well, there you go, more pics of my precious family. Loves of my life they are. My grand daughter Marissa is taking a trip in a couple weeks. She is going to Virginia to my sister Lucys house for a week. Marissa is so excited about it, and so is my sister Lucy. Rebecca will miss Marissa but Daniel will keep her company. That lil boy loves Rebecca. He's forever calling for her yelling BECCA. And when she goes up to him he gives her a hug. Well, I guess that's about it for now. Hope your all enjoying your evening, week, vacation, lol.
Oh, I got some exciting news. I am going to meet a fellow JLander next month. I am so excited about it. We're going to meet at Berlin Auction in New Jersey. I can't wait to meet her. And for her to meet my hubby, and Rebecca and Marissa and Daniel too. I will be meeting CANDLEJMR. Is it March yet? lol
Well I will go for now. News is on and I want to check out the weather report. This morning I heard on the news there has been 60 murders already here in Philadelphia for 2007. Man, I hope I find a place to move to soon and get out of this city. Take care everyone.