Well, old man winter showed his ugly face again. I layed down to take a nap while chicken I stuffed was in oven and when I woke up this is what I saw, from kitchen window.
Look at those big flakes, and it was mixed in with ice too. While I was sleeping, Jim took this next pic from livingroom window. He should of opened the window like I do, lol.
I'll take a better pic of it in morning. Well, my sister Lucy has learned the fine art of scanning pics and emailing them to me. I have her permission to add them to my journal. This first one is my oldest niece Donna with her son Anthony. I love this pic. I am going to enlarge it and print it out and frame it. The background is just beautiful.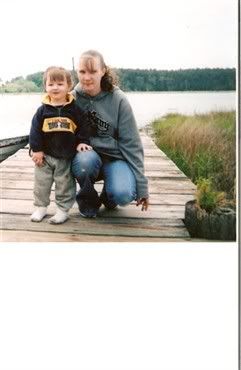 Isn't she pretty? I have baby pics of her around. One of them is my favorite. Where she is wearing a sweater set my Aunt Helen made. Donna looked like a babydoll when she was born, so tiny. I think Anthony looks like his mommy but also his daddy. Donna is my sister Lucys daughter. This next pic is of my sister Lucys son Steven. He's a big boy and strong too.
I happen to think he's a very handsome young man. Ok now this next pic, I really like. It is of my sister Lucy on Halloween. She looks so real in her costume. I'm gonna enlarge this one too, lol. She really went all out on this costume.
Hmmm I wonder if she can whip up a potion to make this nasty head cold/sinus infection go away, lol. You look great Lou, I love this pic. Ok, I wasn't gonna put this pic in here for reasons kown to Lucy and I but I will be nice and do it for her. This is my sister and her boyfriend Joe. They been together on and off now for a few years.
Well there ya go, Lucy and a few members of her family. She's gonna take recent pics of her kids and grandkids and send them to me and I will share them with you. Sometime this week I will have a pic of my mother a few months before she died of cervical cancer at age 32 holding my brother Paul when he was just a little baby. And a more recent pic of Paul as he looks now.
So far we've gotten 2 inches of snow here in Philly, and now it is freezing rain coming down. Gonna be a big mess in the morning for sure. There already posting school closings and school delays on the news. I won't be going no where tomorrow. Staying indoors. Besides with this nasty cold I have I would be better off indoors. My Rebecca has it too. We both have watery itchy eyes, stuffed nosed, burning sinus's, and a scratchy throat. I'm drinking green tea right now. The hot tea feels good on my throat. Gonna make Rebecca a cup tomorrow morning. Well, guess that's about it. Hope your all safe indoors and warm from this storm.
LOVE TO ALL...............................................