Jim got me a scanner finally after years of asking him for one. And I am loving it. It is so easy to use. He showed me how to use it, but when he emailed pics it came out as an attachment. So I played with scanner and in 5 minutes figured out an easier way, lol. Then taught Jim what to do. So, I decided since this is my journal, I will start out with all pics of me, lol. Hope I don't scare ya and give ya nightmares lol.
The past 2 days I really felt like crap. No cold or flu, just totally drained of energy. I think with running out of vitamins and having no sugar maybe that is what is making me feel so run down. Tomorrow I go and get my vitamins.
Our snow is almost gone. Warmer weather and the rain have played a huge part in melting it. I am so glad, I hate snow. For an entire week this snow and ice kept Rebecca and I indoors. It feels so good to get out again. Yesterday Rebecca and I went to Salvation Army. Wow i got some good deals there, everything in store was half price except for items with yellow tags. My shopping cart was full and only spent 25.30. Tomorrow I will take pics of the goodies I found and post them.
Well, I been trying to get caught up on my email. I put a big dent in it tonight, maybe tomorow I can finish it up. I hope so. Ok, so are you ready to see the pics of me, lol. Here I am..................
This first one is of me when I was 2years old.
This is me and my lil brother Paul. He is holding my daughter Emma when she was 4mos old. Paul is 10yrs old in this pic, I am 1mos shy of being 19.
Yep, that's me. All dressed up to go out to dinner with Jim. It was our wedding anniversary. I think our 13th year. My brother Harry did my hair and make up. He's really good at it.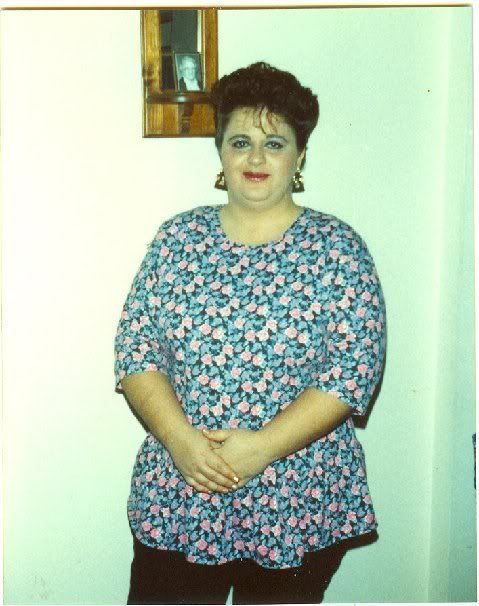 These next 2 pics are of my wedding. Jim was 23 and I was 17. My very best friend loaned me her wedding gown. She also took all the pics of me wedding for me. Escept for this first pic. Jims grandmother took this one.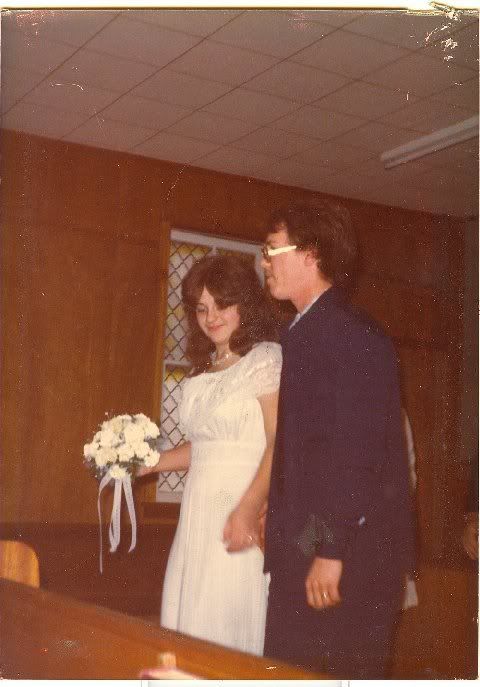 Mmmmmmmm cake, lol.
Man I was skinney there. I weighed 115 lbs when I got married. I'm only 5'3 so that was a good weight for me.
This is me when we lived in Casper, Wyoming.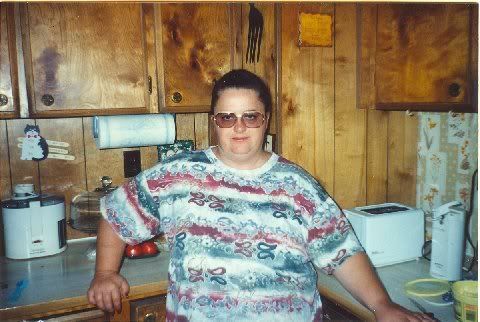 This is also me in Wyoming. I caught my first fish ever. No, I didn't bait the hook or take the fish off, Jim did that for me, lol.
It was a rainbow trout. My brother Paul took it home and ate it, lol.
And this is me in 1996. I was in San Francisco, California visiting my brother for 2 weeks. I had a blast there. I got a really bad sunburn there. It was 62 degrees and foggy and I got sunburned.
Man I look fat, yuck. All that delicious food I ate there.
When we moved to Wyoming, we had no idea at first where to move there. So we opened up a map, closed eyes and where ever we pointed is where we were going. We landed in Casper. And the weird part was our cat was named casper, cause he was pure white like a ghost. We got him when he was 7yrs old, and had him til he was 18 when his health failed him and we put him down. I miss him, he was the best pet I ever had. So lovable, and always wanting to sit on your lap or sleep in bed with us. Here is my baby boy Casper.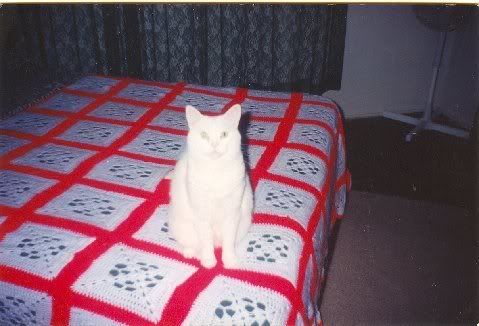 See the red and white blanket he is sitting on? I crocheted that. It took me 3 years to make it. Man does it keep you warm in winter at night. I still have it too. It is a queen size, that's why it took so long.
Well there ya go, there's some pics of me. Tomorrow I will add more pics of others. And tomorow night I will start adding recipes to OutOfMyKitchen journal from my Soprano's cookbook. Hope you all had a great evening and a wonderful day tomorow.
LOVE....................................