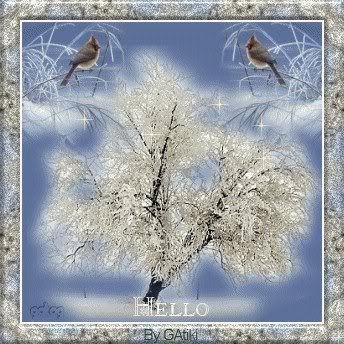 It's been a couple days since I made an entry here, so I thought I would drop in a while. I hope everyone has had a nice weekend. Mine was ok. I did alot of cleaning. I still have alot to do, but I will finish it tomorrow. I haven't even done dinner dishes, I am just too tired. I would so love to go to bed right now and sleep, but if I do I'll be up at 3:am. So I try to stay up as late as my body lets me so I can sleep. I finally got the bedroom cleaned up. Man, did those girls trash that room. It took me 4 1/2 hours to clean it. Tomorrow I want to mop kitchen and bathroom, dust livingroom and wash baseboards coming up the steps. They really need it too.
I had a problem getting Rebecca to bed tonight. She said she had chocolate tonight so she was gonna get bad dreams and didn't want to go to bed. She climbed up on the couch near her daddy, and 20 minutes later their both sleeping, lol. I carried her to bed and tucked her in again, lol. Wow, did she get heavy. Last time I weighed her she was 44 lbs, now she is 52.5 lbs. Jim woke up about 10 minutes later and he went off to bed too. He has work tomorrow. Here's a picture of the 2 of them asleep on the couch.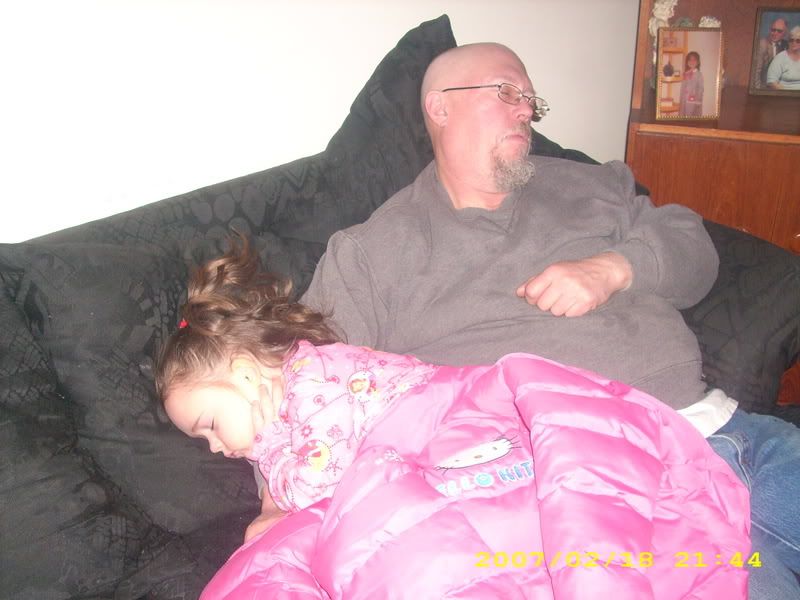 Isn't this a cute picture? She's using her daddy's arm as a pillow, lol. She's such a daddy's girl, and he loves every minute of it. The man would move heaven and earth for this kid. The 3 of us went grocery shopping today. She wanted pudding cups. They had them at Food Basic's 6pk for 1.18. She couldn't decide if she wanted vanilla or chocolate, lol. So Jim grabs 2 pks of each flavor and puts them in cart. I asked him why so many, he says she'll eat them in a week. And you know what? She will too, lol. I told her that's enough treats, now what kind of healthy food do you want? She says, lettuce, little tomatoes, green peppers, baby carrots, celery andapples. So we got it all for her. I'm glad she loves fruits and vegetables. Oh and she wanted fish, not fish sticks either. She wanted me to make fried fish again. She is so much like Jim in the way he eats. He loves fish and she is taking right after him. My daughter Emma is the same way. She likes fish, raw clams, steamed clams, mussels, shrimp, smoked herring, and octopus, yuck!!! Her favorite fish is salmon, Rebecca's is pollack.
Did anyone watch Extreme Home Makeover tonight? I did and I cried. What that show did for a family who had autistic children was just amazing. They even collected over 200,000 and paid off the mortgage for them. Six children all got their own bedroom decorated in their favorite theme's. It was just so heart warming to see the expressions on those kids faces when they saw their new home and their bedrooms. I have really come to love this show.
I have started my search for a bigger place to live, no luck yet. Haven't found something we can afford yet. Rebecca is already making plans for her new room. She wants it to be pink and yellow, lol. And have pictures of disney princesses all over it. And she wants a puppy and a kitten. I don't think soooooooooo! But if she wants one of these here puppies I will gladly get her one. I think they are adorable, how about you?
Now tell me you wouldn't give one of these adorable little puppies a home, lol. I would. Hell, I'd give all 3 of them a home, lol.
Well, that's about it for now. Get ready, a warm front is coming, yippeeeeeeeeeeeeeeeeeee. Hope it melts this snow and ice, cause I am sick of looking at it. But until then, keep warm, stay safe.
LOVE,