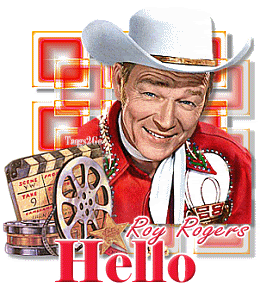 Good Morning! I am going to try to make an entry today. I feel so crappy still. I can't sleep, I'm coughing and sneezing, and my eyes are watery and burning and now I have an ear ache. I can't taste anything. And my body is so full of aches and pains I have noidea where to pinpoint them at. Rebecca doesn't seem to have it as bad as I do. Maybe her childrens Tylenol Cold works better then my Robitussin? Well, I hope I'm not boring you with all my family pics. My sister has emailed me a bunch more. If ya wanna see them keep reading, lol. I don't think I'll be able to get all of them in this entry, but I'll get as much as I can in for you to see. OK, you ready?
This is Chewy, my sister's Chihuahua. I can't figure out if he's singing, dancing or modeling his new shirt, lol.
This is Anthony, my great-nephew. He's such a cutie.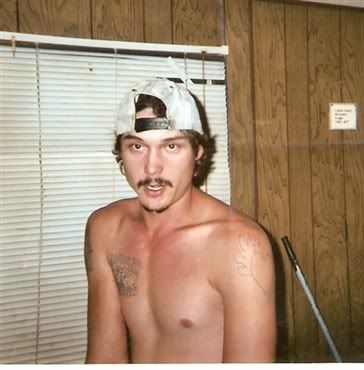 This is Anthony's Daddy Danny. Danny and my niece Donna have been together for quite a few years. Danny needs to get down on bended knee with that ring Donna so wants and ask her to marry him. Hint hint, ya here me Danny. Danny is a very hard worker, and provides a good home for my niece and their son. He's a good man and I am very happy he is in Donna's life.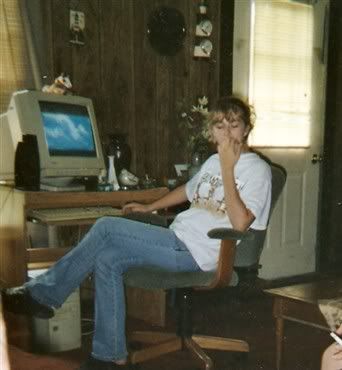 This young lady is my niece Jenny. Wow she really blossomed since I last seen her. My sister Lucy sure has some beautiful daughters. Jenny was my buddy when she was younger. She was always with me. One summer I kept her for the entire summer, spoiled her rotten yes I did. Spent 600.00 on clothes, shoes, toys on her. She went to work with me, and when the customer left, I'd clear the table of the dishes and she'd wash it and keep the tip, lol. I didn't mind though, she was so good when I had her there with me. Everyone loved her.
This is Jenny when she was just a little baby. She was so adorable. Always smiling.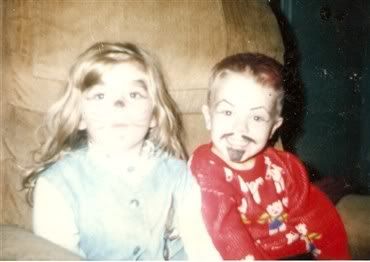 Jenny and her little brother Eric. Yes they were lil devils at that age, lol.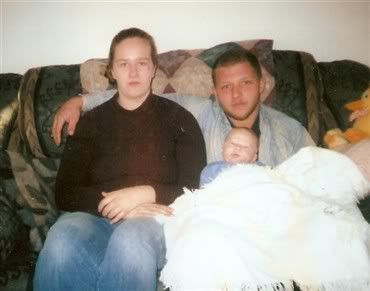 This is my niece Sharon. And her boyfriend Ricky and their son lil Ricky. Sharon and Ricky are expecting their second baby in May. This one is a girl. Their naming her Jacqueline Louise. I think that name is so beautiful. Louise is the middle name of Lucy's daughter Sandy who passed away a few years ago.
This is lil Ricky as a ghost this past Halloween. He's so adorable, I think he looks just like his daddy.
My niece Donna got this tatoo in memory of her sister Sandy, with Sandys initials put over it. I think that was a wonderful thing to do in memory of her sister.
This cutie is Summer Lee. She is the daughter of Lucys son Steven.
This is Jim and I when we lived in virginia. We were suppose to be dancing, but beings I was 7mos pregnant, and so tired, I think Jim was holding me up more then we were dancing. Look at my face, yea I was tired, lol.
If there's a place around that has karoake, my sister will find it, lol.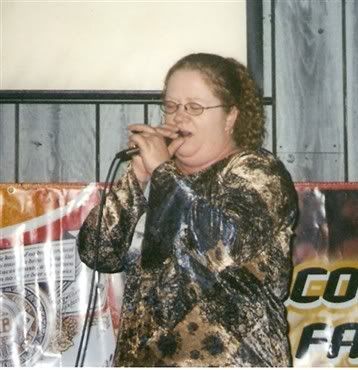 She's really into singing this song huh. You go girl!!!!!!!!!!!!!!!!
My sister Lucy years ago standing near one of her saddles for her horses she had. She sold them years ago.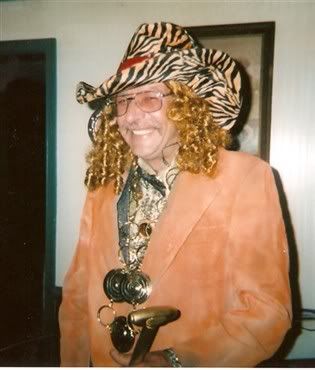 This crazy man is my sister's good friend Pete. He was in a Halloween contest and won second place. Go Pimp Daddy, lol. Pete is also the one who is teaching my sister how to use her scanner. Good job Pete, your a good teachercause she scanned and emailed me this pic of you, lol.
Well, there ya go. More pics of my family and all. Hope I didn't bore you to death, lol. I know I'll have alot more to show you. Lucy is really into using her scanner now. She's at work right now, but when she gets home she'll be looking for this entry, and emailing me more pics. Here that sis? Get to scanning woman, lol. Well, guess I will get dressed, make a cup of green tea and maybe do some housework today. I have done nothing for days now. Been to sick to even move around. But it has to be done today. Take care all, keep warm, and hope spring arrives soon.