Good morning my very dear friends. Hope your morning is going well so far. Mine is just fine. I feel great and I actually slept 8 hours last night without being woke up. I posted the recipe in journal for the Stromboli's. Link to journal is above. If you make it would you send me an email or a comment of what you thought of it? We really enjoyed it. I know you will too. You don't have to use the things I used, you can use anything you like. Jim wants a steak, peppers and onions one, I'd like a veggie one made with spinach, black olives, broccoli and diced tomatoes, green peppers.
Today I am going to be doing some major cleaning. Bathroom needs a good scrubbing and floor mopped, kitchen needs a good sweeping and mopping. Jim drove the van to work today, so I got my day full of housework, reading journals and making recipe entries.
Thank you for the comments on Rebeca dressed as Dorothy for halloween. It wasn't this past halloween, because yes she was a scare crow, it was the halloween before that. She was 4 yrs old in that picture as Dorothy. This halloween she has said she wants to be a bride and wear a sparkly dress and crown. I think I'll get out the old Kenmore sewing machine from it's cabinet and make her a bride costume. My sewing machine is old, but it works great. Here's my sewing machine.
here's a close up
and the foot pedal, should say yep she's an oldie, lol.
It works great still, so that's all that matters. Some one once told me I should put it on ebay because it's an antique. Yea right, and it weighs a ton, so wonder what shipping will cost. No thanks, I am keeping this treasure. One treasure I have I really treasure, it is a spanish solid silver 1.00 coin dated in 1795 that my Dad gave me many years ago. I had a coin dealer tell me he can't buy it because whatever he offered me wouldn't be fare to me. So that coin is put away in a safe spot. Maybe one day I can buy a home with it, But until then I will just hold onto it.
Well, I took Rebecca shopping yesterday. Should of dropped her off at her sister's house, lol. This kid is fasinated with St. Patricks Day. She has it in her head we are having a party and she is going around inviting everyone. I have to tell them, there's no party. Here's a couple of pictures, she's ready for this so called party, lol.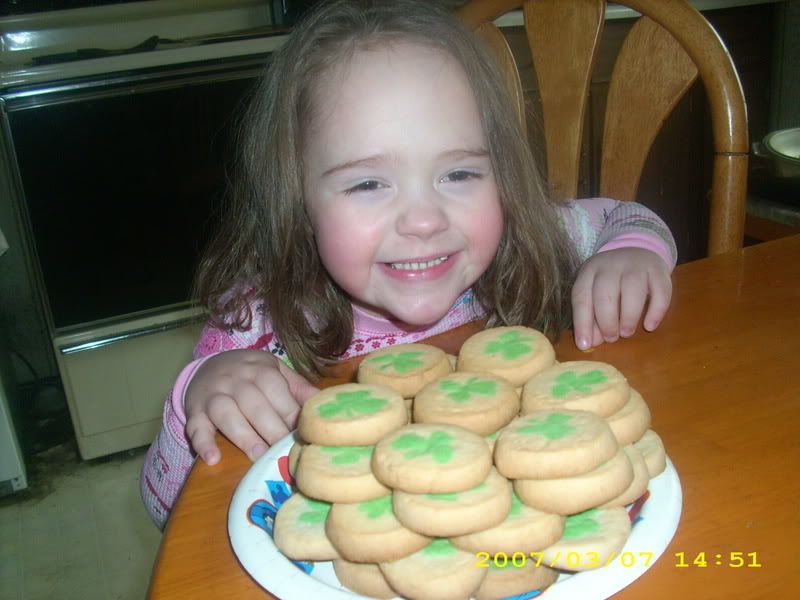 Here's the treats, lol she says.
and here's the decorations, lol
I'm making ham and cabbage and a corned beef brisket with baby potato's and greenbeans. Gonna use the cake pan set for that watermelon cake I made her and make a vanilla cake with jello filling and whipped cream for dessert. She'll love that. Yes, I will take a picture of it all, lol.
Well, I'm not gonna get anything done sitting on my butt, so I'd better go now. I'll be back later with more recipes. Hope your all having a wonderful day.