Well, there's no sleep for me tonight. My Rebecca is sick now again. I guess it's my fault though. I took her outside yesterday to play in the snow. I had her all bundled up, snow pants, coat, snow boots, gloves, hat. But I guess that wasn't good enough. Now she's all congested again, lips are chapped, she's sneezing, and she says her throat is scratchy. Gave her some medicine, thought she'd be fine at 2:am. Well, 2:45 she wakes me up crying, she doesn't feel well. So right now she's on the couch all covered up, handful of tissues, balm on her lips, Robitussin given, and I am doing everything I can to stay awake to keep an eye on her. Rebecca is watching a movie about Judy Garland. She loves watching movies with her in them. She just calls her Dorothy, lol. I even have a pic of Rebecca somewhere, from Halloween a couple years ago, where Rebecca was dressed as Dorothy in the movie The Wizzard of Oz. I will have to post that later this morning in this entry. So, if you read this and there's no pic, stop back again later and there will be, lol. I'd have to go in bedroom turn on light to get pic, and if I did, I'd wake Jim up. So, I will have to add it a little later. Every time Judy Garland sings a song on this movie, Rebecca smiles and claps her hands, lol. I guess she's a Judy Garland fan, lol.
Well, I think I am going to go over on the couch and curl up next to my child and watch this movie. Maybe we can fall asleep for a couple more hours. I need some more sleep. See you all again later this morning.
PS. Gonna be entering a few more recipes in recipe journal later this morning. I hope you find something you'd like. There will be one called Stromboli Bread, from the Soprano's cookbook. I am been asked to make that one for dinner tonight.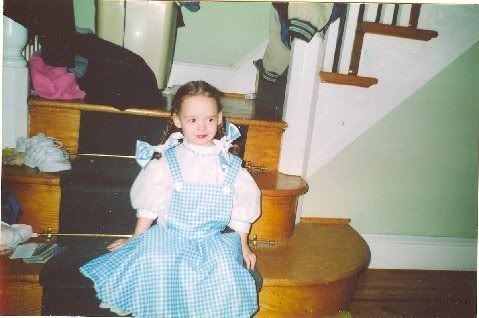 Love to all...........................CINDY