Brrrrrrrrr, it is chilly tonight. Wasn't that warm today either. it was cloudy and windy, snow flurries, then sunny and windy, then cloudy again with snow flurries. Rebecca wanted to go outside to ride her bike, but it was just too cold. She is still somewhat congested with her cold, so no way was she going outside to play or ride her bike. We did go out though, but to a store. Went to Big Lots again. Man, I love that store. Only been there twice now, but I have already formed a bond with that store. And the prices? Wow!!!!!!!!!!! Fits my purse, lol. I got lots of food, and other things.
Canned crab meat, 1.30 a can. Bought 3 cans, making my crabcakes for supper tomorrow night. Microwavable soups, usually 1.39 in our grocery store, well got them for 66 cents today. Cans of Beanie Weanie's, (jim loves these) usually 1.19 a can at our grocery store, got it today for 33 cents a can. You all remember in one of my entries of how I am doing my kitchen in roosters? Well Big Lots had my rooster dishes. I have been searching on line and cheapest set for 8 people was 149.99, well today I got a service for 4 of rooster dishes for 15.00, so I bought 2 sets, 30 bucks, woooooohoooooooo I got my rooster dishes finally, and saved 120.00. Now that's a bargain!!!!!!!! I came home took out all my white dishes from cabinet, washed the new rooster dishes and in my cabinet they are now. I am so happy I have them. Here's what they look like.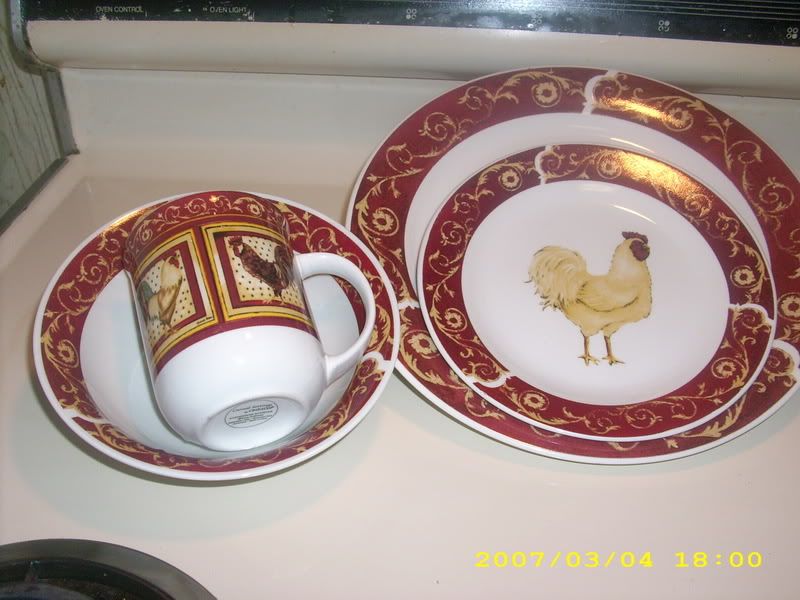 My niece Sharon is having a baby girl in May. So I picked up a few things for her baby. Bottle, bibs, sleepers, socks, fleece blanket, all pink, white, and a pair of lil red socks too. Here's what I got for my new great-niece due in May.
Sharon doesn't have alot of money to go out and buy girl baby things, so any help she gets she would be so happy. I hope these few things will make her happy. I been going to thrift stores too, looking for things, but haven't had much luck. All I have found is boy clothes. She won't be having a baby shower, because no one can afford it. I'll still keep looking for bargains and thrift stores to see what I can find. I might take a trip to a little thrift store in Riverside, New Jersey called the Train Depot. I use to buy lots of baby clothes there for my sister Lucys kids. I would get sleepers for 25 cents, onesie t-shirts for 10 cents. You never left that thrift store without a big bag of things. I have even bought winter coats there and only paid 1.50 for one. Yes, I think I will go to that lil store again soon.
Yesterday Jim went to the laundromat and took Rebecca with him. She seen a stuffed turtle in the claw machine. Jim tried and tried to get that turtle, couldn't get it. So he takes her to toystore KB toys a few doors down. Searches the store, no turtles to be found. But Rebecca spots something that she just had to have, a pony. My child is fasinated with horses. She takes after my sister Lucy with that. So, Jim gives in and 16.99 plus tax they walk out with this pony. My child comes home and says look mommy I got a pony. It's one of those pony heads on a pole. I said wow that is nice, she says yea I know. I think I'm gonna name her RoseBud cause she has roses on her head, lol. Told my sister Lucy about it this morning, and she reminds me that when we were little she had a real pony named RoseBud. Wow, and my child never knew this and gave her pony the same name. So here's Rebecca and her new pony.
It is a really cute pony. Now if she'd just stop galloping around this apartment, lol.