Today was an awesome day. Not only was it my anniversary, it was also the day I went to Berlin Auction and met Jeanne (Candlejmr). Jeanne is so nice, friendly, funny. The 3 kids just loved her. Daniel was a little upset after our visit and didn't want Jeanne to go home. Marissa and Rebecca had a great time using Jeanne's camera and taking pictures of us and everything else they could find to take a picture of, lol. We had a great time talking, walking through the Berlin Auction, listening to the kids laugh. We went into the pet store, and the kids loved seeing the animals. Even though it was cloudy and a bit chilly, we had a really great time. We've made plans for another visit in about 6 to 8 weeks. We're going to go to the park/playground next to Berlin Auction and have a picnic. The weather will be warmer then. But all in all it was a great day. I loved meeting Jeanne and loved our visit, and I can't wait to see her again.
I had a wonderful anniversary. This morning Jim gave me a beautiful card and a ceramic candle lamp. And while walking through Berlin Auction I spotted a glass Rooster Lamp which I have wanted one for so long, and I told Jim I wanted it. He went into the store and got it for me. Yeaaaaaaa, I got my lamp finally. After we all left the auction, Jim took the kids and I to the diner for an early dinner. Which was absolutely delicious. On the way home the girls sat in the back seat of the van and giggled away, while little Daniel fell asleep in his carseat. We pulled up at Emma's house just as Dan was getting home from work, perfect timing, lol.
Now Rebecca is asleep for the night, Jim's watching a DVD called Matrix and I am on my computer. Later on tonight I have to hem a pair of pants for Joes Mom so she can wear them to church in the morning. Joe and his older brother Mike are taking their mother to church. She is really happy about that. Here's is the cards Jim and I gave to each other and my 2 special gifts from Jim.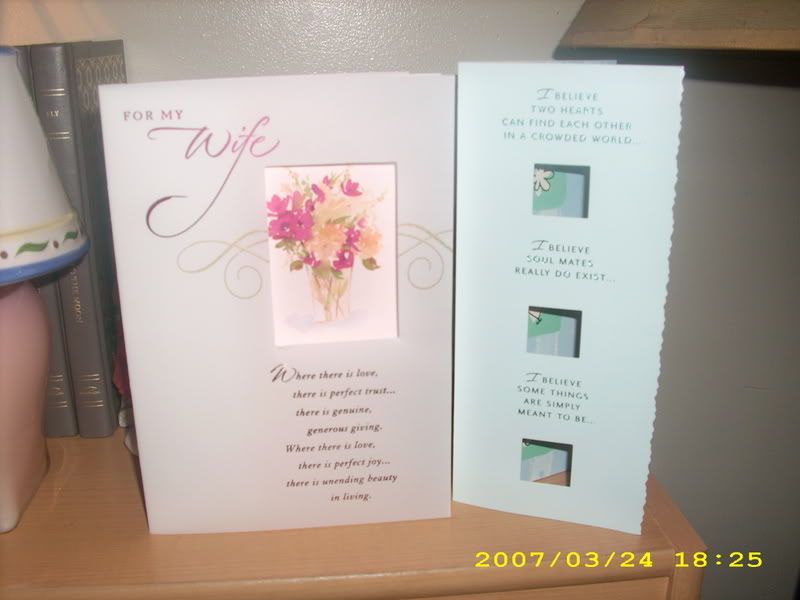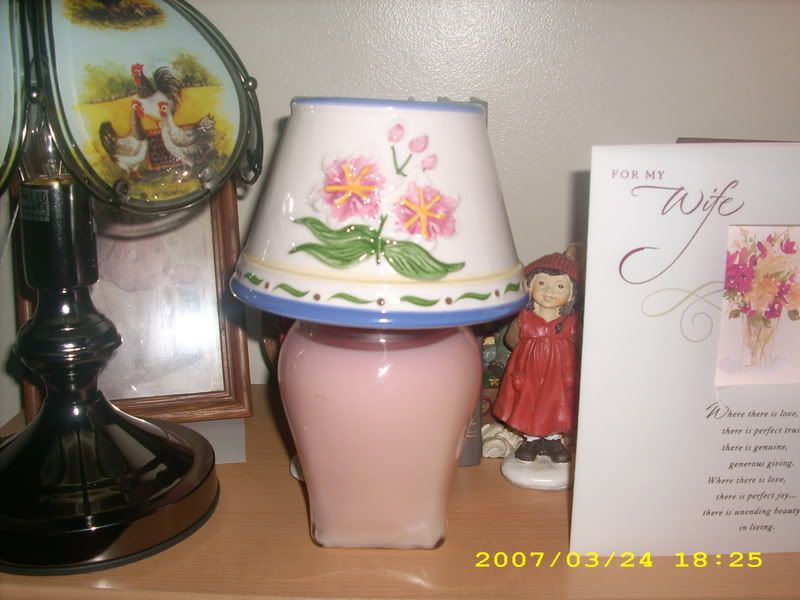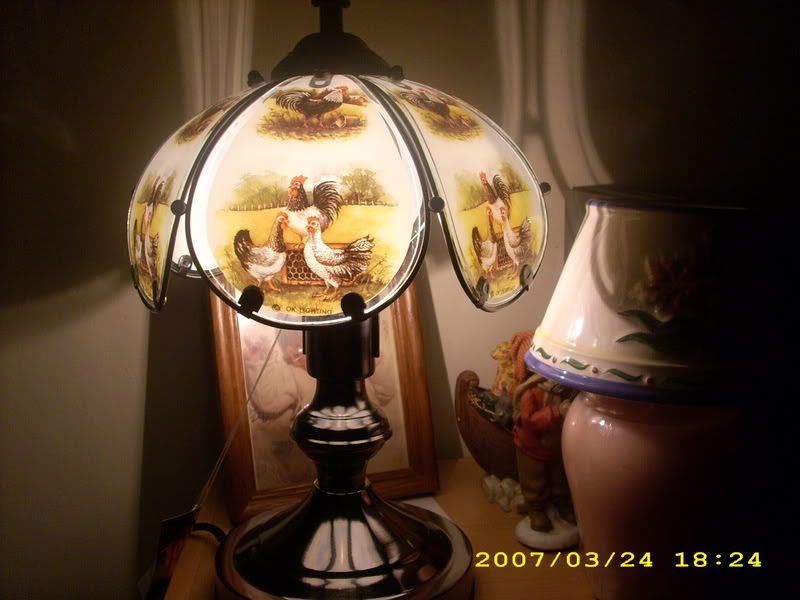 I love my candle lamp and rooster lamp. And I loved today. It was awesome. I hope everyone had a great day, and your weekend is going well. I guess I will get off of here for a bit and fix Mommom I's pants for her. Take care everyone.
Love to all........................................................