Please click on this tag and light a candle for a very special lady. Sugar is in the hospital today undergoing surgery to have cancer removed. Please keep her in prayer. She has left a last entry she will be making until she's home and feeling up to getting back on the computer. You can read her last entry by clicking on her name tag on my side bar. She has turned off her alerts, but she said she will read all the comments left for her when she's up to it. So click on her name tag and leave her a few nice words please. Also, pray for Jeannette who is home recovering from her cancer surgery, and a few Jlanders who have a Mom, Dad, Sister now going through cancer and treatments also.
Well, sunday was a nice day. I spent the morning cleaning, and the whole afternoon and early evening babysitting my grandson. I love having him here. That lil man really melts my heart. He kept climbing up on couch and pointing to mirror on door saying Look, mommom, Boy. He was pointing to his reflection, lol. So cute.
At one point during the day I asked him, Daniel, what are you doing? and he turned around and gave me a funny look like, nothing mommom I am innocent, yea right. Here's the look, I had camera ready to, lol.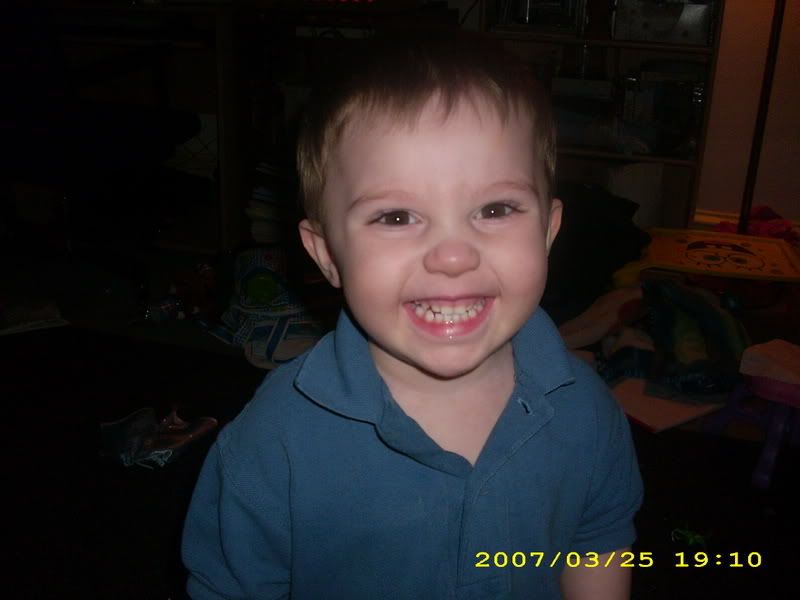 Rebecca wanted to go to sleep last night wearing bunny ears. I don't think so, but here she is, wearing them before bed.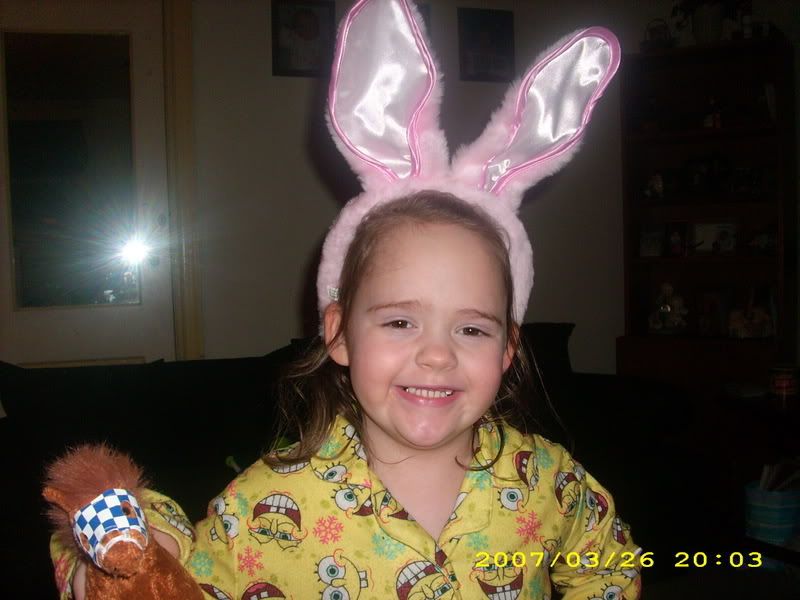 Yes, my child loves SpongeBob, lol. She would live in these pajamas if I let her.
It is beautiful today. A little cloudy out but warm. Suppose to go up to almost 80 today. I'm going to Emma's and we're going to take the kids outside to play. Yep, camera is coming with me. LOL, Jim just called me. He said, Get outside woman, it's nice out. I told him I would be soon. He said take Rebecca out and let her burn off some of her energy. That's just what I'm going to do too.
Well, I guess I'd better get my butt ready and go. I need to go to postoffice too. Got a box to mail and 3 big envelopes. Jim told me last night that postage stamps are going up to 41 cents soon. And I just bought 2 books of stamps too, grrrrrrrrrrr. He also said their coming out with a 41 cent Forever stamp. This stamp you can use even if postage goes up again and still just use the 41 cent stamp, cause it's 41 cents forever. I like that. Gonna see if postoffice has any and I'm gonna get me some, along with 2 cent stamps for these stamps I have now. I'll just get enough for 1 book right now.
Well, gonna go. Hope you all have an awesome day.
Love ya.............................