Just thought I'd make an entry and then go off to bed. Tired today, very tired. It seems like all I did today was sit at computer. Just too tired to do anything major. I did manage to change the linens on the beds and sweep the kitchen floor. Dinner was quick and easy, Stuffed peppers and salad.
Jim and I are going house hunting next weekend. Not to buy, just to rent. We want to see the neighborhoods before we make appts to see the houses. I am being very picky, I have my daughter Rebecca to think about. Neighborhood has to be clean, houses in tact and not falling apart, and I want to see the schools in the area's. We plan on finding a place and living there for quite a while, so we want to make sure we're gonna be happy there. I want out of Philadelphia. Too many murders going on. So far this year last I heard there was 62 murders. There is so many ilegal guns floating around.
Another reason I want to move is the parking in this city is crazy. It's like your always sandwiched in, and can't go anywhere until someone comes and moves their vehicle.
I finally have a recent pic thanks to Nancy who's journal is on my sidebar called "desires" of my brother Paul. So, here's my lil brother.
This next picture is my favorite. It is probably the last photo taken of my mother before she died of cancer. She is holding my lil brother Paul in this pic. he is 3 months old. Eight months after this pic was taken my mother died. The love in her eyes and the smile on her face are precious.
I'm always saying my grandson Daniel looks just like his daddy when his daddy was little. Well man does he. Even has the smile. This is a picture of Dan when he was 3yrs old. He was such a cute baby.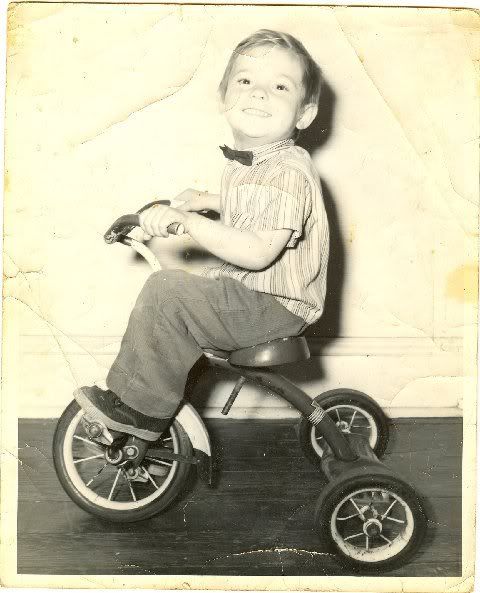 Dan and his brothers always wondered why their parents had 10 kids, all boys. Well, by the looks of this next picture, I can see why their Dad was a father of 10 kids, lol. This is their mom, Liz in her younger years.
This is Liz now. She has a big heart. Loves her boys and her grandchildren. She has even taken my daughter Rebecca has her own grand daughter too. Ok two more pics. Now don't laugh. No my hair isn't crooked or cut wrong, it's just the way I have my head tired that makes it look like it is shorter on one side, lol. The red haired girl is my sister Lucy. Sorry sis, now ya know I was gonna put this pic in here, lol.
The couple in this next pic is my Uncle Ed and Aunt Marge. He was my dad's brother. These two special people helped keep my family together when we were lil kids. My aunt marge came over 5 days a week, cleaned, did the laundry, sewing, cooking for us. They are both gone to be with God now. I really miss them. Well, that's it for now. I guess I will go and get my jammies on and go off to bed. Hopefully I can sleep tonight. Robitussin isn't work good enough for me, so tomorow I am going to the pharmacy and getting a bottle of Mucenix. Take care everyone, hope your having a nice weekend.
Love to all,