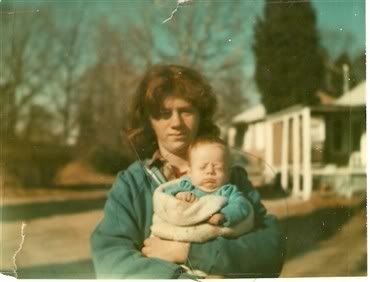 LUCY AND HER NEWBORN SON EDDIE. 1980.
LUCY SINGING KAROAKE, SHE LOVES TO SING.
CAN YOU TELL SHE LOVES HORSES?
LUCY AND HER BOYFRIEND JOE, HE ALSO LOST EVERYTHING IN THE FIRE. THEY HAVE BEEN TOGETHER FOR 4 YRS NOW. THE 4YR OLD DOGGIE WAS A GIFT TO JOE FROM LUCY. HER NAME WAS CHEWY.
LUCY AND HER SON EDDIE, 1981
YEP, IT'S LUCY, SHE DOESN'T NORMALLY DRESS LIKE THIS, BUT HEY WHATEVER FLOATS YOUR GOAT RIGHT? LOL NO JUST KIDDING, IT'S HALLOWEEN.
AND THIS IS LUCY AND HER OLDEST DOG CHEWY. THEY ARE SITTING ON FURNITURE LUCY LOST IN THE FIRE. SHE BOUGHT THAT LIVINGROOM SET FROM ME WHEN I MOVED OUT OF VIRGINIA. SHE LOVED THAT LIVINGROOM SET. POOR CHEWY, SHE AND THE PUPPY ARE IN ANIMAL HEAVEN NOW. YES, I DO BELIEVE THERE IS A HEAVEN FOR ANIMALS ALSO.
I JUST SPOKE WITH MY SISTER LUCY. RED CROSS PAID FOR A 3 NIGHT STAY AT THE HOTEL, TONIGHT IS THE LAST NIGHT. RED CROSS TOLD LUCY TO LOOK FOR A PLACE TO RENT AND THEY WILL HELP HER IN PAYING FOR IT. SHE HAS BEEN OUT LOOKING FOR WEEKS BECAUSE THEY WERE PLANNING ON MOVING APRIL 20TH, BUT SHE HAS HAD NO LUCK. THERE'S NOT VERY MANY PLACES THERE YOU CAN RENT. MOST ARE ALL TAKEN BY FARM WORKERS WHO COME THERE TO WORK IN THE TOMATO AND SPINACH FIELDS. THE COUNTY SHE LIVES IN (ACCOMAC) IS A SMALL COMMUNITY, A FARMING COMMUNITY, AND THE OWNERS OF HOUSES CAN GET OVER A 1000.00 A MONTH RENT FOR A BROKEN DOWN OLD HOUSE WITHOUT EVEN ANY WATER IN IT. THOSE HOUSES IF YOU DRIVE BY AFTER EVERYONE RETURNS FROM THE FIELDS HAVE ABOUT 20 TO 30 PEOPLE OUTSIDE, WOMEN AND CHILDREN TOO. THEY ALL LIVE IN THE HOUSE, SLEEP ON MATTRESSES, BATH IN THE CREEKS. I AM NOT JOKING, THIS IS TRUE. WHEN I LIVED IN VIRGINIA IN GREENBUSH, VA THERE WAS A HOUSE DOWN THE STREET WHERE AT LEAST 50 MEXICANS LIVED IN. THIS HOUSE HAD NO WATER, MOST OF THE WINDOWS WERE BUSTED OUT, IF IT RAINED THEY'D NAIL CARDBOARD UP AT THE WINDOWS TO BLOCK THE RAIN FROM COMING IN ON THEM. SOME EVEN SLEPT IN THE BROKEN DOWN CARS PARKED IN THE YARD. AWFUL JUST AWFUL. SO LUCY IS GOING TO HAVE A VERY HARD TIME FINDING A HOME TO LIVE IN. THERE IS NO APARTMENT COMPLEXES THEIR AT ALL. ONE OF HER FRIENDS HAS A SMALL CAMPER TRAILER. HE SAID LUCY CAN USE IT. HER BOYFRIENDS BOSS SAID THEY CAN PARK IT ON HIS PROPERTY, WHICH IS GREAT, BUT SHE'LL HAVE NO RUNNING WATER. THEY CAN RUN AN EXTENSION CORD SO THEY CAN PLUG IN A LAMP OR SOMETHING FOR LIGHT. SHE'LL HAVE TO GO TO HER DAUGHTER DONNA'S TO TAKE A SHOWER AND DO HER LAUNDRY.
I WENT OUT YESTERDAY AND GOT HER SOME THINGS AT WALMART. NIGHTGOWN, SLIPPERS, SOCKS, UNDIES, DEODORANT, TOOTHPASTE, TOOTH BRUSHES, AN ALARM CLOCK (WIND UP KIND) SOAP, BATH SCRUNCHY, AND A 50.00 GIFT CARD. MY DAUGHTER EMMA AND I ALSO SENT HER SOME CASH WHICH SHE'LL GET TODAY CAUSE WE SENT IT NEXT DAY SERVICE. SHE'LL HAVE IT BY 3PM TODAY THEY SAID, HOPEFULLY. SHE'S ON HER WAY TO GET THE WINDOW REPLACED IN HER CAR NOW. THEN SHE'LL BE GOING OUT AGAIN LOOKING FOR A PLACE TO LIVE. THERE IS A LOCAL COLLEGE THAT HAS OFFERED TO HELP COLLECT FURNITURE FOR HER IF SHE CAN FIND A PLACE TO LIVE. SHE FOUND 2 EMPTY TRAILERS, BUT THE OWNERS DO NOT WANT TO RENT THEM TO ANYONE. SOME PEOPLE ARE LIKE THAT THERE. THEY CAN OWN A HALF DOZEN HOUSES, BUT WON'T RENT THEM OUT. I AM THINKING ABOUT WRITING TO THE LOCAL PAPER ABOUT MY SISTER LUCY, MAYBE THEY COULD RUN AN ARTICLE ABOUT HER AND SOMEONE WHO HAS A PLACE AVAILABLE WOULD OFFER IT TO HER. THIS PAPER ONLY COMES OUT ONCE A WEEK ON WEDNESDAYS. THAT'S HOW POOR THIS COMMUNITY IS. A NEWSPAPER 1 DAY A WEEK. IT IS CALLED EASTERNSHOREPOST.
I HAVE BEEN READING COMMENTS IN EVERYONE'S JOURNAL WHO HAS MENTIONED MY SISTER IN THEM, AND I WANT TO THANK EVERYONE WHO MENTIONED MY SISTER AND ALSO THANK EVERYONE WHO IS HELPING HER. IT DOESN'T MATTER IF THINGS ARE NEW OR OLD, IT DOESN'T MATTER IF YOU CAN'T AFFORD A GIFT CARD OR CASH OR TO GO OUT AND BUY NEW THINGS. ANYTHING YOU CAN SEND, A TOWEL, A SET OF SHEETS YOU DON'T WANT, A BLANKET, SHE WILL LOVE IT. AND ALSO PRAYERS FOR HER ARE ALSO WELCOME.
WELL, I AM GOING TO GO NOW. I HOPE EVERYONE HAS A NICE DAY. AND THANK YOU SO MUCH FOR EVERYTHING YOUR DOING FOR MY SISTER. YOUR ALL GIVING HER HOPE, AND MAKING HER FEEL SO LOVED. SHE IS SUCH A GOOD PERSON, I WISH YOU COULD MEET HER. SHE'S FUNNY, LOVING, CARING AND WOULD DO ANYTHING FOR YOU. I LOVE MY SISTER SO MUCH.
GOD BLESS YOU ALL...........................CINDY