I know we haven't found a house yet, so Rebecca can have her own room, but I have been getting things now, so I have them when we do find a place and move into it. Rebecca is really into Disney Princess now, so I have decided to do her room up in that theme. I found some really great deals too. Everything I got was on clearance at Walmart, except for the last item.
Here's what I got so far.
Bedding $18.00
Bedrail 17.99
Lamp 10.99
This last item I am ordering next week. The border for her walls that I am gonna paint a very pale pastel pink.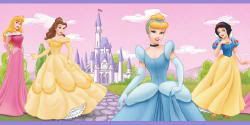 Thanks Angie for the border link where you got the boys their border. I found this and love it.
I still want to get curtains, table and chair set and maybe the Disney Princess vanity and bench.
Target has the bedroom furniture I want for her. Twin bed, dresser/Armoire, nightstand and chest of drawers. And I want to get her a hamper for her room so she can put her dirty clothes away in it and not all over the floor.
I haven't told her or showed her any of this. It is going to be a surprise. So, what do you think? Do you think she will like it? I hope she does.
Well, I want to thank you for your prayers for my friend Carol's friend Debbie. I got an email from Carol and Debbie was rushed to the hospital tonight. One of her lungs collasped. Carol will keep me informed. So, Please keep Debbie in your prayers.
I posted a couple more recipes in my recipe journal. I am going to enclose all the journal links here in this entry, for those who don't have them already.
http://journals.aol.com/emabecmar/OutOfMyKitchen/
http://journals.aol.com/emabecmar/MyEmmasPrego

I guess I will call it a night. Gonna get into my nightgown and go to bed. I am totally exhausted. So, good night everyone.