I just love that above picture. It is my new screen saver. Rebecca wants me to change her's too. Well, Rebecca and I had a busy morning. We went to the bank to deposit Jim's paycheck. Starting next week, his pay will go in by way of direct deposit, which is fine by me, cause I hate driving down Castor Ave here in Philadelphia, Too many dag on stop lights. Then we went to Mayfair shoppinf center to the Shop N Bag where I could not find a place to park. Not one single spot was there to park. I got so agrivated and went to the ACME instead. Where I did find a parking spot, but found the store so crowded. Did everyone have to be in the same isle I was in, jeez. It seemed like where ever I was in the store they were all going the same direction. And when I got to the check out isle's guess what I found? Yep, you got it, everyone checking out at the exact time I was. Ok, there is 4 self check out lanes, 2 12 items or less isle's and 9 regular isle's. But were they all opened during this rush of people out shopping thinking there was going to be some major blizzard in Philly tonight and tomorrow? HELL NOOOOOOOOOO!!!!!!!!!!!!!!!! The only regular isle's open for about 60 or more people with over flowing shopping carts were isle's 9 and 10. I got into isle 10, after a quick glance at the carts in isle 9. There was 11 people in front of me with full carts. In about 5 minutes there was about 6 people in back of me. After standing in line for 20 minutes and left in front of me now was 2 people, some young whipper snapper who think's she knows everything, tells the cashier, close your isle, and proceeds to tell us to go to next cashier. HELLOOOOOOOOOOOOO, I don't think so. Before she could open her mouth again I let her have it. I have been standing here in this line for over 20 minutes, got down to 2 people ahead of me and now you want me to move to the next isle where there is about 10 people ahead of me, are you fricken nuts? I told her go get your boss cause I refuse to talk about this to a child, who has probably never even been grocery shopping by herself in a crowded store. The cashier, who is an older lady and has worked there for many years told the girl, she will close when her line is done, and the girl walked away. I'm there spending 147.98 in groceries and she wants me to move over, yea right, so play with your barbie doll's little girl. Grrrrrrrrrr, I swear today was just not my day. Everywhere I went I got so annoyed. I wasn't just shopping in case we did get some storm, I needed things like milk, bread, eggs, diet pepsi, but then spotted all the buy1 get 1 sales and couldn't pass them up. Speaking of shopping, yea ok I been ranting about it here, lol, but a while back I posted a recipe that called for Cake Flour. I bought some today cause I am going to bake a homemade cake, and this is the cake flour I was talking about.
It makes the best cakes too. Emma and Dan are planning on having a big reception type party after the baby is born, because they didn't have one when they got married last year, and I want to make their wedding cake for it. I have to go to Walmart and get the pan set to make it yet. I'll take a pic of it when I am done and you can tell me what you think. It won't be for about 2 weeks, I want to get the rest of the things I need first.
As we were shopping I needed olive oil. Found some on sale regulary 7.99 but on sale for 5.49 and it came with a coupon for a free box of Brownie mix. Of course Rebecca is all for a brownie, and says I have to take her picture showing you all what I am going to make her tonight. So, here's the little stinker showing off her brownie mix.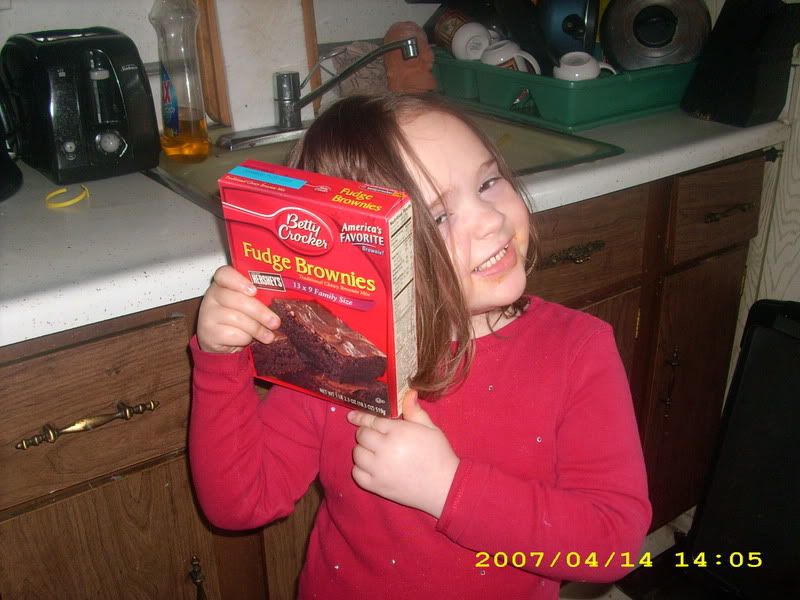 Please ignore her yellow face. She was eatting cheese curls. So, tonight is brownie night, I suppose.
Well, Jim had off from his job today, but he was asked by Joe's brother if he wanted to work today up in Long Beach Island putting handrails up on the roof of some beach house. Of course Jim doesn't pass up an opportunity to make money, so that's where he is, along with Joe. He took picture's and emailed them to me from his cellphone. The first one is a view of the beach from the rooftop, the second is Jim waving hi to Rebecca ( I told him to send that one to me so she could see her daddy) and the third one is Uncle Joe and a view of the homes from the rooftop. I love Long Beach Island. We have gone there many times in the past to the beach. So here goes those pics.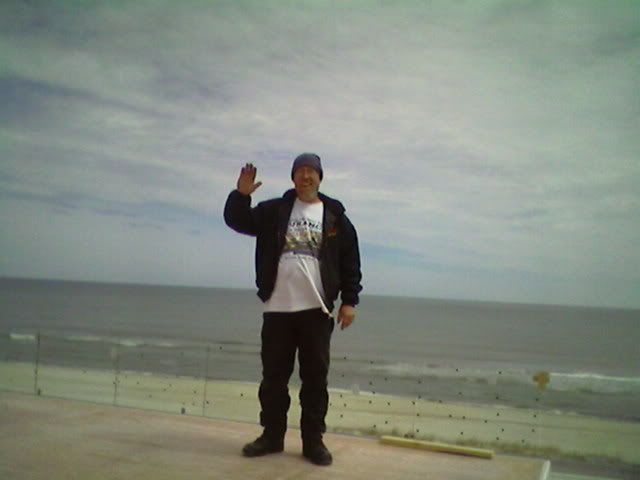 I guess I will go now. I hope no one get's a nasty storm and there's no snow for anyone. And if anyone know's where Mother Nature has put spring, will you please let me know. I am just soooooooooooo sick of cold nasty weather. My body ache's from the cold. I need warm sunshine, open windows, fresh air. Have a good weekend all.
PS. Before I go, What hobby do you enjoy the most?
Hint: This will be my next entry with pics, lol.