Jacqueline Louise Szymankiewicz.
7lbs 11oz, and 19 inches long. Also shown is her big brother Ricky and their mommy, Sharon. I have a pic of her daddy too, I just have to search my photo bucket accounts and go find it. The baby is doing great and so is her mommy. I asked my niece if she was going to call the baby on a daily basis Jacqueline. She said to call the baby Jackie. So, Jackie it is. Isn't she adorable?
So, welcome to the world lil Jackie. You are so beautiful. And congrats to her Mommy and Daddy, she is perfect.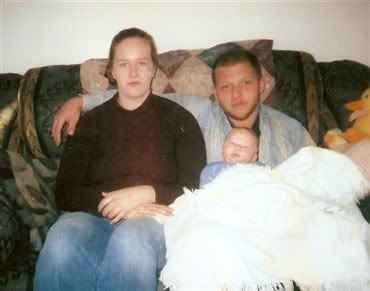 Here's my Mommy, Daddy and my big brother Ricky when he was a baby. My mommy stays home and takes care of me and my brother. And my daddy works to take care of us.
LOL......................CINDY